Menu
WE ARE NOW OPEN AGAIN
DINNER IS AVAILABLE FROM 6.30-8.30PM ON A REDUCED MENU BELOW AND THIS MUST BE BOOKED 1 DAY IN ADVANCE PLEASE. THE BAR & LOUNGE WILL REMAIN CLOSED DURING THE DAY FOR NON RESIDENTS.
Temporary Restaurant menu available from 6.30-8.30pm most days, but please check with the hotel as you must be booked in 1 day in advance for dinner to definitely be available. Thanks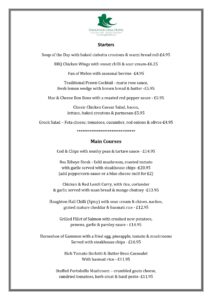 Sorry the menu/details below are not valid during the reopening period until we offer a full service again.
Oliver's Restaurant & Lounge Bar
Enjoy a relaxing meal in the Lounge Bar or Oliver's Restaurant and choose from home cooked classics to gourmet delights.
With an extensive wine list as well as a fully stocked bar, Haughton Hall is the place for a Celebration meal or just an evening away from cooking at home and with reasonable prices, there's no better choice locally.
We have children's meals available too in Oliver's Restaurant, which is open daily from 7-9.30pm and the Lounge Menu from 12.00 – 9.30pm.
Call us on 01952 468300 to book a table or use the online booking box.
Breakfast Opening Times: Mon-Fri 7.00am to 9.30am, Sat-Sun 8.00am to 10.00am
Bar Food: 12 noon to 9.30pm daily
Dinner: 7.00pm to 9.30pm daily
Download our Restaurant Menu and Wine List (from 16.3.20)
Download our Lounge Menu (from 16.3.20)
  
Download our Children's Menu

PLEASE DO NOT BOOK HERE IF YOU ARE A HOTEL RESIDENT ON THE CHOSEN DATE. PLEASE EMAIL RESERVATIONS@HAUGHTONHALL.COM TO BOOK YOUR TABLE PLEASE.