Coronavirus Update
As the country is in the unprecedented situation of having to deal with the impact of the Coronavirus, we, at Haughton Hall Hotel, have taken steps to ensure that we are as effective as possible within our day to day business with residential guests, diners, attendees at weddings, events & conferences as well as our staff.
All staff have been issued with relevant NHS and government guidelines regarding the particular steps to help avoid the spread of Covid-19.
Our cleaning procedures are of a very high standard and we have the solutions, materials, equipment and process to deal with any eventuality.
We thoroughly clean our hotel with anti-bacterial sanitiser and disinfectant. Guest rooms are cleaned and sanitised after every use and particular attention is paid to key high touch point areas such as door handles and light switches. Public areas are also cleaned regularly using disinfectant sanitising solutions.
We already have anti-bacterial hand gel stations around the hotel that are placed in strategic points around the hotel in public areas and meeting rooms.
We remain open for business during these troubled times for the convenience of our guests and welfare of our staff. We very much look forward to welcoming you to Haughton Hall at some time in the future.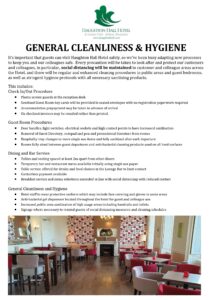 View Our updated risk assessments below @ 15.9.20
Covid-19 General Risk Assessment September 2020
Events are currently limited to 15 guests and everyone needs to wear facemasks on arrival at the hotel and during any time spent in public areas. We ask all non residents to complete a track and trace form on arrival too please or now 'check in' using the NHS COVID-19 app.
Please also see the detailed Murder Mystery Events COVID pages here for full details on how these events can continue to operate safely.
As government requirements and restrictions change frequently, please check for any additional changes at the time you may at the hotel.