Menu
Weekend Festive Party Nights
FESTIVE DEAL ***** Free of charge bedroom for the night of the party OR
1 free place if booking a group over 25 paying guests *****
Celebrate with friends or colleagues and enjoy a 3 course festive dinner followed by a disco until midnight.
£10 deposit for events £25 and under, and £15 deposit for all party nights £29.00 and above
Available Dates
Friday 19th Nov………………………………..………………………£25.00
Sat 20th Nov ………………….……………………………………….. £25.00
Friday 26th Nov………………………FULL……………………………….. £29.00
Saturday 27th Nov…………..……FULL………………………………….£29.00
Fri 3rd Dec …………………………………………………………..£32.50
Sat 4th Dec ………………….FULL…………………………….. £32.50
Sun 5th Dec …………………………………………………………….. £22.50
Fri 10th ………………………………..FULL…………………………£32.50
Sat 11th Dec ………………………FULL…………………………… £32.50
Sun 12th Dec …………………………………………………………… £22.50
Fri 17th…………………………….FULL………………………………£32.50
Sat 18th Dec ……………………..FULL……………………………. £32.50
Sunday 19th December……………………………………………..£22.50
Sat 8th Jan 2022 Rewind Party Night ……………………….. £25.00
All prices are per person
The Lounge Bar opens from 6pm, followed by dinner at 7.30pm. The Disco starts around 9.30pm until midnight.
MENU FOR ALL EVENTS
Tomato & Basil Soup with ciabatta croutons (V) (GF)
Chicken Liver Pate with red onion chutney & toasted ciabatta
Fan of Melon with mixed ginger berry compote (Vegan) (GF)
Garlic Mushrooms with a herb crust (V)
**********
Turkey Paupiette
Turkey breast filled with Cumberland sausage meat,
apricot and cranberry stuffing and wrapped in bacon. Served with pan gravy.
Slow Cooked Feather Blade of Beef
with a red wine jus
Grilled Fillet of Salmon
with a sundried tomato & olive tapenade
Rich Tomato Borlotti & Butter Bean Cassoulet
with basmati rice (Vegan) (GF)
**********
Chocolate Brownie with Chantilly cream (Vegan) (GF)
Home-Made Apple & Bramble Crumble with custard
Lemon Cheesecake with raspberry coulis
Christmas Pudding with brandy sauce
**********
Freshly Brewed Coffee & Mince Pies
Download the Christmas Brochure Here: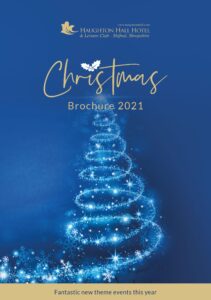 Advance Purchase Rates
£39 Single Room £55 Double Room
Upgrades to Manor Rooms £10, Four Poster s £20 and Suites £30
(Only available to book upto 18 November 2021)
Rate is Non-Refundable & No Amendments allowed.
Rooms must be Pre-Paid on booking for guests attending Christmas events at Haughton Hall Hotel only.
Flexible Rate
£59 Single Room £75 Double Room
Upgrades to Manor Rooms £10, Four Poster s £20 and Suites £30
Check Availability & Book A Flexible Room Here
Flexible Christmas Party Night Rate with cancellation/amendments allowed up to 12 noon the day prior to arrival.
Please provide a valid credit card on booking to guarantee the booking only with payment due on departure.
Please send us your Christmas Enquiry below and we will come back to you.